Pack for a Purpose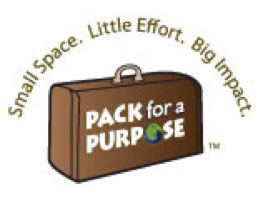 We are proud members of Pack for a Purpose, an initiative that allows travelers like you to make a lasting impact in the community at your travel destination. If you save just a few kilos of space in your suitcase and bring supplies for area schools or medical clinics in need, you'll make a priceless impact in the lives of our local children and families. Please read below to see what supplies are needed for our current projects.
At Coppola Hideaways we focus not only on giving our guests an unforgettable vacation, but also on making sure we are positively effect the community we live in. Besides offering employment and training to Belizeans from the local area, we participate in regular community service projects. You can help support these projects by bringing a few items with you when you come to Belize to be delivered to deserving schools or organizations.

Below is an outline of two ongoing projects you can assist with:

SCHOOL SUPPLIES FOR LOCAL ELEMENTARY SCHOOL
Providing school supplies for Seine Bight Elementary School and St. John's Memorial Preschool in Placencia, both less than- 10 minutes away from Turtle Inn Resort.

Needs:
Pens, pencils, colored pencils, crayons, markers, chalk, hand held pencil sharpeners, rulers, erasers, protractors, compasses, solar calculators, exercise books, math flash cards, English word flash cards, alphabet flash cards, science educational wall charts, math educational wall charts, English language educational wall charts, human body educational wall charts, English dictionaries and encyclopedias, working laptops, age appropriate story books in English, colored construction paper, glue sticks, watercolor paints, craft scissors, soccer balls, netballs/basketballs, jump ropes, Frisbees, new or gently used children's clothing, new or gently used children's shoes, stuffed animals/soft toys and educational toys.

PLACENCIA HUMANE SOCIETY
Furnish basic pet care items that all Humane Societies need on a regular basis. The mission statement of the Placencia Humane Society is Helping People Help Animals. In support of our mission, we hold the following as the core values of the Placencia Humane Society.
Together we hold central the welfare and care of animals.
Together we are compassionate and empathetic in every decision and interaction.
Together we are fiscally responsible and accountable.
Together we commit to honesty and integrity.
Together we stand behind our work.
Together we embrace constructive change.
Together we lead by example and with excellence
Needs:
Dog and cat food, pet snacks, chew toys, kitty litter, pet bedding, blankets or rugs. They are also always in need of pet carriers, pet crates, doggie gates, leashes, collars, harnesses, small plastic swimming pools, pet bowls, feeding trays and water bottles. Don't forget to donate pet shampoo, conditioners, brushes, combs and any other grooming items that might be needed.

We look forward to working with you on supporting these worthy projects.